Sunday, February 26, 2006
dearest dearest angel!!!.
your gentleness and the way you express yourself.
sparing a thought for others always before you.
the way you dote on the younger ones.
im sure you'll be a good mum.
congrats to you and edddy.
ur big day in kulai.
sorry i cldnt be there.
but my hearts with you.
CONGRATS and heartfilled wishes!!
love lovessss....
huggies.
|chunnie.poh| 5:49 PM|


Saturday, February 25, 2006
back in melbie!melbie!!
it feels so surreal to be back.
this whole place.
so familiar.
but yet seem so different
i cant deny the underlying emotions going through
i feel so helpless..
bawling my eyes out while talking to han last night!
the whole day.i was controling and waiting
songs,places... brings back a whoole lot of memories.
i thought ill b stronger than this.
im wrong.
left or right.i feeel somethings missing
something admist from all these places.
i dare not look again.
i feel so trampled,torn and steppped on.
it sets me in and scares me.
|chunnie.poh| 12:26 PM|


Thursday, February 23, 2006
thank yous thank yous..
i loveee you guys too much toos.
the smses.
the hugs.
eveerything..
i feel so blessed to be part of this family.
the extended amt of love.phonecalls and everything!!!!
you guys rock my world.
i promise promise ill take good good care of myself.
and live life to the fullest.
tilll thens.
its june....

*ber-yi.. quick start counting down!!hee.
|chunnie.poh| 1:36 PM|


Wednesday, February 22, 2006
the aunties just left.
came to my house for morning tea.
feelings: wreecked
m goin to miss home home so much!!!
yesterday night.
while drivin back from singapore.
i decided i shldnt come back in march for the weddings.
was in the airport yest.
in less than 36 hrs, my turn to leave.
to walk through the departure hall.
granny called just now.
aunts and couz came.
it sudden struck me that
im leaving my comfort zone.
the ones who are dearest dearest to me in my life.
the mum,dad,siblings, cousins,aunts,uncles...
|chunnie.poh| 4:18 PM|


to the little little one.
happpy birthday!!!
i love the way you would come
and just hold my hand whenever you see me
just as a way of saying hie!!
and telling me stories.
happy happpy 7th birthday little girl.
|chunnie.poh| 3:44 PM|


Sunday, February 19, 2006
Ecclesiastes 3:1-13
1There's an opportune time to do things, a right time for everything on the earth:

2A right time for birth and another for death,
A right time to plant and another to reap,
3A right time to kill and another to heal,
A right time to destroy and another to construct,
4A right time to cry and another to laugh,
A right time to lament and another to cheer,
5A right time to make love and another to abstain,
A right time to embrace and another to part,
6A right time to search and another to count your losses,
A right time to hold on and another to let go,
7A right time to rip out and another to mend,
A right time to shut up and another to speak up,
8A right time to love and another to hate,
A right time to wage war and another to make peace.

9But in the end, does it really make a difference what anyone does? 10I've had a good look at what God has given us to do--busywork, mostly. 11True, God made everything beautiful in itself and in its time--but he's left us in the dark, so we can never know what God is up to, whether he's coming or going. 12I've decided that there's nothing better to do than go ahead and have a good time and get the most we can out of life. 13That's it--eat, drink, and make the most of your job. It's God's gift.
thanks baby!
|chunnie.poh| 3:59 PM|


the best fren.
chuns:m going back next weeek....
anne: lets go out and party.have heaps of fun!!
chuns:erms!!! haahaha babeeee u r no longer in melb!! u r in HK...
anne: ya.... sighs!!!!!
we were talkin and talking and then anne said.
anne:shittty men with shittty hair
chuns:pretty hair, pretty woman.
*laughs non stop...
loves yous.
|chunnie.poh| 2:45 PM|


Saturday, February 18, 2006
peanut nutters, lychee n lime sorbet,pistachio, hazelnut roche...
|chunnie.poh| 5:48 PM|


just for everyone's info..
its universal chocolate mint day today!! the 19th feb!!!
my love for chocolate mint!!!=)
the cookie mint crumble ice-cream!!
choco-mint cookies!!
and chocolate mints..
yumsyums!!!!
hee.was out with yulin the other day...
we met at holland village.
haha we ended in suntec at night.
in the midst there was the orchard road shopping.
haha.. she was mentioning the signs of age-ing.....
getting tired easily. whilst doing something

getting bald..
hahha.. welll both of us agree because after the whole day, while chilling out at pacific coffee hse near esplanade.. beside marina square with han and zhaojun? *hahha as all of you can tell, i forgot what is the name of the building. she was like these are the signs... of us getting old.its really funnny the way she puts it!!
hey girl.haha hope u are still on the thurs flight to sydney which is 5 mins earlier to the melb flight.hope to see u in the airport. till thens have lots n lots of fun =) huggies
|chunnie.poh| 2:56 PM|


Thursday, February 16, 2006
there so many bits and pieces to write everywhere!!!
love actually is all around!!!
have i told u how much i love love love the airport!!
the anticipation of waiting for someone!!!!
the one u love..the someone u are waiting for!!
the anxious faces, the hugs that is given by everyone!!!!
welcome back dearest eddy, angel and the little one growing inside..
to the dearest dearest adelinE!!! my dearest meimei!!!
dinnner, coffeee, talks, heartshape balloons!!
cakes and shoppings!!!!!
who needs a valentine much more than that!!!
happy happy 21st to you...
was so good being able to spend time with u and pe.!!!
takin silly silly photos!!!
heee...
bestie!!bestie!!!
i love yous!!!
spa massages, lunches, orchard-road side ice-creams, sugarcane juices.
stupid and silly photos.shoppings.bubble tea..
all the queries i have in mind
you answered them all.
all the 'what-if's' and all the what do you think!!!
m so glad u r coming in this weekend to spend time.
more nasi lemaks.alcohols, time together!!!
to the guigui!!!
what wld i do without you???
the dearest of all.
whom i can calll even at 6am in the morning to change my uni timetable for me!!
without even knowing any thing abt melb uni
and 2am in the morning phone calls and smses.
my crime partner...=)
the one who never ceases to love.to give and pour out.
to the tang family!!!
thanks for letting me invade ur house every week when i go down to singapore!!
heee and providing me with all the other necessities.
thanks sanyi.. i really appreciate every other single thing that you have done for me!!
and verlicia!! ur calls to me everynight asking me to go home and play with you!!
love loves lovesss...
heee..
celebrate the love you have.
and share it with everyone around you.
when i meet up with people
friendships and relationships have been on somehow the topic everyone have in mind
but i have to admit.
i have been really amazed how all of them work with different people..
the friendships i have with each and every one comes so differently and unique!!
just to share about the friendship of me and charrr..
we used to used to hate each other so much..
ask us why!!! we dunno.
and there is really no apparent reason!!
we just hated each other.
i wld say we were really superficial in secondary sch..
to cut the story short!!!
but now its so different!!
its really a testimony we come to learn and grow together as sisters and as friends!!
i know anytime if she or me we need someone to talk to or to share
or to be PRAYED for!!!
i know this girl would be there for me no matter what!!
be there to talk to and even taking time out!!!
thanks char!!!! love u heaps!!!!!!
|chunnie.poh| 10:04 PM|


Sunday, February 12, 2006
today marks the end of the chinese lunar new year!!!!
the fire works and crackers have been sounding the whole day!!!

its fast how time flies...

i dun even know whether wld i be home for chinese new year next year..

to the family who never never ceases to care:
i love all of you!!

thanks for making every holiday so fruitful.

thanks for all the extra concerns that all of you have shown throughout!!

whether it be life.lessons, mahjong sessions, having suppers. just planning weddings and parties,
having lots of tea-breaks together..

i know im blessed to have all of you!!
LOVE LOVE YOU GUYS!!!

|chunnie.poh| 11:08 PM|


Saturday, February 11, 2006
i am tempted to jet on a plane from melbourne
to get-away.. even though i am not back yet!!!
been checking out prices of air tickets
been checking out places to go in aussie land.
been wanting to just get out of melbourne though as much as im looking forward to go back.
up on my list of the things i want to do
includes picking up italian
getting away with char.to somee place.
thinking of joining the badminton clubbb.
anyone interested in a weekend getaway to some place.
|chunnie.poh| 11:19 PM|


this little girl.. pearlynn hai
and this little boy! ryoo
one calls me beibei jiejie
and one calls me ffeifei jiejie
in the most weird accent.
both
of them are turning three this year!!
i love how little toddlers like them..
think of the simplest things
pure and innocent!!!
im captured by the wonders of what God is doing in the midst of all these.
loves loves loves.
|chunnie.poh| 10:05 PM|


Friday, February 10, 2006
|chunnie.poh| 9:21 PM|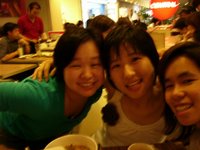 to the best fren!!! i miss u miss u miss u miss u heaps
i went back to STC to find ms goh,ms wong and mrs tan
and met lee lao shi for lunch and tea!!!
i havent seen lee lao shi for like 4 years.
it was practicallly so good just to talk to them
talking about the future.our lives now!!!!
catching up and connecting with them again!!!
haha alll with the dearest han and pok and pe!!!
that han... toook leave on wed.. cause she was "sick"
hahha but she wanted to go n see ms goh, mrs tan and mrs lee and spend time with me.
and wanted some rest from the work as welll
so it was to kill 5 birds at one GO...
haha me and pok didnt even say anything when we went to dinner on tues.
we were like.
aye see u at like 9.20am at tanjong pagar mrt k!!
hahaha but these GIRLS!! BABES!!! and FRIENDS
made this holidays a BLAST!!! heee
loves loves loves!!!
n be meeting up with more people next weeeekkk
before i fly back in 2 weeeks....
|chunnie.poh| 2:20 PM|


Tuesday, February 07, 2006
i love how friendships works!!!
even after not talking for a year, a month or even 2 years.
i love seeing how friends connect with each other after a long while!!!
the amount of fun,fellowships,loves,laughters,tears,joys that each of them bring for one another
MY JESUS ROCKS for immensely bringing the people HE have placed in my LIFE.
|chunnie.poh| 5:40 PM|


Your light is over me flooding over me
Heaven over me flooding over me
Praise the Lord with all my heart
Praise Him for He has done great things
His banner over me is love
His banner over me is love
You brought the sunshine in
And turned the dark to day
You made the shadows flee away
The dawning of a brand new day
|chunnie.poh| 3:48 PM|


i really question myself after a while
whats the point?and whats the big issue?
|chunnie.poh| 12:32 AM|


Sunday, February 05, 2006
to our no.1 fans.we safely reached K.L
Thanks for the concern...- amy
been hanging out with the coolest people ..
the sisters for the past one week!!!
can u imagine!!! ONE WHOLE WEEEK
i had my sisters with me.amy and joyce!!!
can never cease to have enough of the bonding.
could say we were together most of the time..
went with them to j.b to meet their friends.
went to singapore and hang out with their friends and mine!!!
wld be missing them for a while.
hopefully be heading up to K.L before i fly back
all of u definitely made this holiday so special and different..
loves the every single thing we do!!
|chunnie.poh| 5:08 PM|