Tuesday, May 31, 2005
ask me how am i feeling.
i would tell you
the hot air is stuffed in my head.
feeling dizzy and faint.
feel like puking.
not feeling weelll..
stressed about work
m not a happy girl at the moment.
sleep doesnt help.
is it the weather changed..
arghs...
not funny at all.
|chunnie.poh| 7:48 PM|


Monday, May 30, 2005
everything seems so unreal.
sitting down in front here.right here
the fan's churning.
with 2 academic papers to churn out soons.
listening the same old song-St Patricks Day by John Mayer.
surroundings. = different.
feeling=warm...

its been 5 nights since ive been back.
everything seem so sureal to me..
seeing my family, the little cousins..
waking up to the familiar surroundings
with prepared brekky.everyday...
ive learnt something...from you
that is not to expect..
since then.my expectation of something went plugging down.
i have to thank you.yet for the wonderful memories.
wonderful times... that you made me learnt.
made me realise all those things.
i am still holding onto all these lessons that you made me learnt and realised
|chunnie.poh| 9:21 PM|


Wednesday, May 25, 2005
im so excited.
m going back HOME.everyone.
change of plans.hee everyone is back home.
and how could i be here when i can be at home rights?
make sense people!!!
but part of me.wants to be here.
but then i know HE have greater plans for me backs......
littleones.mummy,dadddy,kor,jies...aunts..couz..everyone!!im going HOME!!!!!!!!!
haha i was telling verlicia n michelle n they went CRAZEEE!!!
i cant wait just to hold my little one.. n RYOOOOO!
flash back.
this semester.
-celebrated my milestone.
-took my step of faith
-friends..whhooos.hees=)
everything.feel really blessed and i cant stop praising him.
wheez.. m going to celebrate pearls bday today n my roomies.
hahaha yeays.
|chunnie.poh| 8:10 AM|


Sunday, May 22, 2005
have you already realised that.
the leaves are turning brown.
as you walk down the sideways.
the trees are turning bare.
cold wind rush against your skin.
its dark at 5.30pm...
mornings are cold.....
the signs of winters coming.......
currently on my playlist....John Mayer - St patricks day.
We should take a ride tonight around the town and look around at all the beautiful houses something in the way that blue lights on a black night can make you feel more everybody, it seems to me, just wants to be
|chunnie.poh| 7:44 PM|


Saturday, May 21, 2005
i love my
orange
n
lemon
gummies.
i love my
berries
yogurts
and
smoothies
,
ice-creams
..
i dun like
grape
,
berrys
' gummies..
haha what m i trying to say here?
haha i dunno.
anyways m counting down to home.
2 more weekends.
n ill be back at mum's n dad's side.
i cant wait.
can yous?
dearest:15 more days. m counting downs.
|chunnie.poh| 4:08 PM|


Monday, May 16, 2005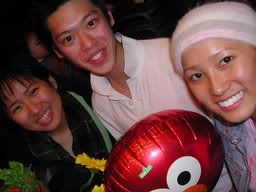 hey ann and shingfuh.

it was an awesome step that we took yesterday.
i cant stop praising God for what he have done in ur lifes.
giving the courage and faith...
this life journey have just started.
i cant wait and im excited of what God have been installed for us..
He is such an awesome one.
someone who never would fail us nor forsake us at any time.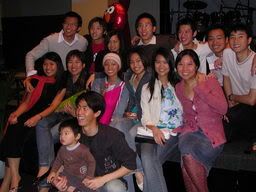 to the bunch:without yr constant support.
constant prayers and encouragement.
i wouldnt have taken that step of faith.
i thanked God for each and everyone of you.
you are so precious in his sight.
|chunnie.poh| 4:37 PM|


Saturday, May 14, 2005
there is this clarity in my mind
what i do not like of this world.
there's just too much to manage.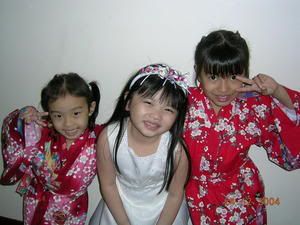 take it all away if YOU can.
i know only YOU can make me complete.
only YOU can fill the emptiness within my soul.
|chunnie.poh| 1:04 PM|


Tuesday, May 10, 2005
sitting alone the this sanctuary of yours

.
being able to feel your presence in this house.
being able to rest in your arms again
makes me contended and in awe of you.
fill me once again before i step out of here.
speaking words of truth and faith.
to deal with whatever that you have planned for me.
im excited about this journey.
ill stand in awe of you, and ill let my words be few.
|chunnie.poh| 7:57 AM|


Sunday, May 08, 2005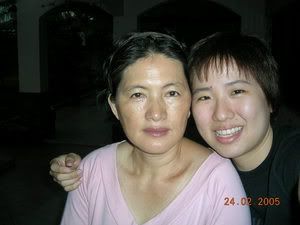 thanks for bringing me into this world,
filled with ur love,filled with warmness of you.
you never fail to listen to my complains.
even though im so far away,you tend to all my needs.
cooked all my favourites for me when im back.
im so blessed just being able to rest in ur arms,when im tired.
run to you when i have problems.
spending an arvo.lazing with you,is something we both treasure so much
thanks for being the way that you are, the kind hearted, the warmness i see in your eyes.
the always certain, supportive mum
|chunnie.poh| 7:02 PM|


Saturday, May 07, 2005
its one of this days.
i wanna sit and lie on my bed.
the whole day.
listening to sobby songs.
rugged up with warmness.
*

there's just something amiss in the room

.
|chunnie.poh| 5:03 PM|


Friday, May 06, 2005
listening to: micheal buble- you dont know me

today's walk safely to school day?did u walk to school?
if you did..come to me..i've got a sticker for u !!
let me begin one whole week of journey...
tomy dearest adel..thanks so much for coming down to melb.
to celebrate my birthday!! u meant so much
the friendship i have with you.its so precious.
i realli enjoyed the little things that we do together!!!
the times when you just looked at me while i was doing work
the first batch of cookies that you made.
sitting on the city circle just to explore.
with the kangaroos, wombats n the little creatures.
dolce fredo,trampoline and gelati all in an hour.
2 cakes from greCO. waking u up in the morning.
love ya heaps

tomydearest dearest everest bunny:
im so glad.i talked to you.
everything.its been so long ever since i talked to you for 3 hours on the phone.
i really treasure our friendship to the nits n bits of it...
i cant wait to go back n just chill out..
pulau tinggi yea?holiday!!! loving yas.dearest

school...
been rather stuffed up.. been mucking around.
but then now.im rather pumped up for planning of lessons,
since ive got the weekly planner.
im itching to teach,help the kids.
im excited..tomorrow's my planning day
the kids are just toooo.. vulnerable.
haha cause theres a harry potter, a superman, a teletubby and a charlie from the chocolate factory all going to flemington primary to play
HOME........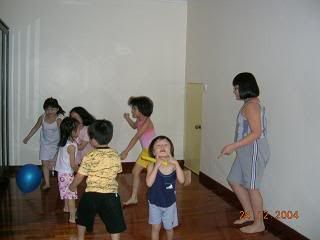 coongrats to

david

and ur wife,

carol

on your

ROM

today.
im so sorry that i cant be there to celebrate this joyous occasion with the both of you..
but then still.remember i wan a big treat when i get home yea??CONGRATS
so when m i going to be an aunt??
tothedearestlittleones:jie's missing u all to the max.
mummy,sisters,aunts,kor n daddy dearest:missing you heaps
6th june!!i cant wait to be home!!
|chunnie.poh| 6:15 PM|