Monday, September 26, 2005
waking up at 8am on a monday morn
after a crazy crazy week..
like it seems.crazy
but im enjoying every bit of my holiday.
its just been parties and more.
cooked supper for the *streetLifebunch on thurs night.
fish n chippery's with qianling,jac and em's on fri morning and trampoline=)
clubbing with anne on friday
asian finger food with the friends. on saturday
tiara's 21st on sunday..
and tonights my becebabes gathering.
with so much to which is yet to come,i've learn to give thanks and praise my God,
who reigns so high above alll....
i've learn to put Him in the center... and faith and trust in him that
he will Guide me...
yesterday at *Lifekids vision training..
Tim was sharing about how he have never touched this area-kids.
because every delicate move,every change would affect the child.
i wished i could have stayed on......
|chunnie.poh| 9:14 AM|


Thursday, September 22, 2005
to the little ones:
m missing all of you...
was walking around in vic mart.
i saw so much activities which i know all of you would love to do.
sitting by the sun, painting big pictures...
clothes which fit all of you.
*picturing all of you running up and down the market
like the kiddys here.
i can imagine, michie and rourou.. being the big sister that they are.
leading claudia, verlicia, jasmine, william, jey xy... walking around.
looking at prettty stuffs
i cant wait thens to be home...
*loves loves.
|chunnie.poh| 4:33 PM|


Monday, September 19, 2005
8 years of friendship.
been through the ups and downs.


im so glad through these 8 years.


im able to celebrate ur birthday without fail every year.


be it in malaysia,singapore,hongkong and melbourne

.
someone who is always so close to me.


your 21st.-and im so glad i could share and celebrate

this milestone for you.


Happy happy 21st.


May you continue to shine in the glory of His and may

He bless you abundantly with the many more years to come.




i

love

u

heaps...
|chunnie.poh| 10:25 AM|


Sunday, September 18, 2005
the remains of the words.
the words that still made a *bang in my heart.
the feeeling still lingers on
ill have to nurture,hold and dance with it my whole life.
meet my friend,my saviour.MY JESUS!!
|chunnie.poh| 10:54 AM|


Friday, September 16, 2005
woohooos...
wheez.hols are here.
but works on my agenda. for this 2 weeks.
social n emo. essay due on wed..
i barely started...
adapting.
science.
music.essay...
these are all assignments which needs to be done.
cause after prac. well gonna be busy busy busy... studying n preparing for exams.
went to visit my kinder yest.
my supervisor seems nice..
work is from 8.15 to 4.
environment seems good.
and its bout 7 mins drive away...
music.. woohooos. finallly over n done with the presentation..!!
i got erica to video for us. *thanks.
*i watched like 6 times already...
haha.. well done girlies...
then off to bridge road and city for shopppinng.
was good.managed to get anne's 21st prezzie.
*cant wait to spend the day with u my dearest then on monday.
till thens...ciaoz.
|chunnie.poh| 8:13 PM|


Wednesday, September 14, 2005
how many times..
can we capture this beautiful picture.
listening attentively to the little one speaking.
everyone looks engaged into the conversation

.
can you imagine,
the person who is talking is you.
the one who never stops listening is God.
how Big, Strong is HE
who seeks to pay attention to whatever you have to say.
|chunnie.poh| 9:14 AM|


Sunday, September 11, 2005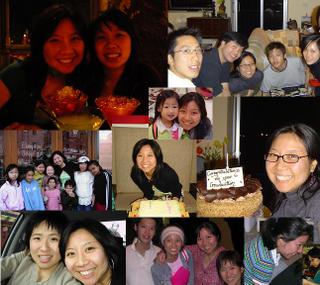 dearest dearest sueleee..
happy birthday!!
you are such a blessing to those around you.

may you continue to shine in the glory of HIS on this journey..
on ur special special day.
i just want to honour you for the friend, the
sister, the leader that you are.
hoped u had a blast.
stay sweet & funky.
love ya heaps.
|chunnie.poh| 4:29 PM|


Friday, September 09, 2005
the night's so beautiful
the weathers too good to be true.
not cold but cooling enough.
considering that i havent had enough of sleep for the past few days.
i ought to be in bed.
but...
i feel like cruising.
feel like sitting in the car.listening to songs.
drive somewhere. unwind myself from the work load.
not funny when you have anotther assignment due which is 50%
like during the hols. n i wanna finish it before i go for holidays.
and like music presentation due next fri. ahhh im so glad.im so done n over with music by next friday. with a teacher like that who is so insensitive to the class and needs, and where is all the anti-bias, being senstitive to the needs, diverse range and being flexible with their teaching styles.foget it.she's just mad.
on a happier note.
hee went for lunch with pearly at brunswick street, n i bought a marcs jacket.
i like that jacket.haha.
shir n pearly:thanks so muchh... these past few days.be it sitting at maccas in the morning typing our essays,people watching.. stonning and being groggy haha.chilling out at my place.. u girls rocks.=)
|chunnie.poh| 10:07 PM|


Thursday, September 08, 2005
these songs are on repeat on my playlist.
it keeps the momentum of churning out the paper.
aslyn- that's when i love you,gotta get over you.
lifehouse- breathing
daniel powter- bad day & jimmy gets high
usher- bedtime
fugees- bohemian rhapsody
james blunt- you're beautiful, high,goodbye my lover, out of my mind
2pac- ghetto gospel
112-crazy over you, cupid.
hillsongs- with all i am, sing (your love), more than life. forever and a day
united life- look to you, consuming fire, seeking you
there you go.
book in my flight for 21st n 22nd nov.
well fully booked n im stressed bout it
pray pray pray.
time table only comes out on the 3oct
by then.well hopefully ill get a flight home as soon as im done in melbourne.
back to the papers.
|chunnie.poh| 5:02 PM|


Wednesday, September 07, 2005
wang wang.
muffins.
choc pocky.
hello pandas.
hope they get me through the night.
ahhhhhhhhh
haha if u wondering how
one's not functioning well...
when, she have an essay due.
p.s:and. by the way,the person who fell asleep in the movie.
she is mentioning.is ME!!
yes ME!!
.
sorry.too tired.
needed a powernap.
|chunnie.poh| 12:11 AM|


Sunday, September 04, 2005
look.trampoline have changed
their outlook.

here comes spring.=))

only for all time.
weekends cld be like this.

thanks dearies.
|chunnie.poh| 8:35 PM|


Friday, September 02, 2005
to my dearest dearest mummy.
thank yous for listening.
i know ive been really whinny.
for the past couple of days.
i dunno what ill do without your
constant support and loved.
a call home.always makes me feel so different.
love you love you mumm..
|chunnie.poh| 5:40 PM|


Thursday, September 01, 2005
mrs.clara ang, ms goh & mrs nicole tan.

thank you for making the impact on my life.
throughout the years in secondary school.
you have shown me,inspired and directed me along the way.
the efforts that you put in/be it to the class or me.
i thanked you for every actions and words.
cause they still do ring in my head.

a tribute to you on this special day.
Happy Teacher's Day.
|chunnie.poh| 8:50 AM|