Friday, March 04, 2005
im still missing you.
m looking at the photos.
thinking of the days that swift past us.
m wondering how you are really doing..
*you made me laugh,
*you made my day just by calling and smsing.
i never know how much i mean to you
but what you said to me.really made me want to fly back
made me aware that your big cousin here means so much to all of you.
be it, ah-ma games, picking each of you up after and before school.
making my home the after school care..nasi lemaks at yellow corner.
ALL OF YOU MEANS SO MUCH TO ME TOOS!!!
i love you heaps little ones,...
rou, baby, babygirl, xiao xy, jas,pearl,william, ver. REO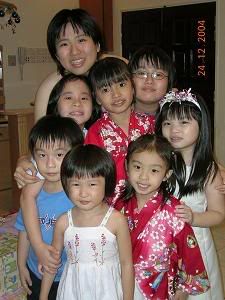 |chunnie.poh| 12:40 AM|